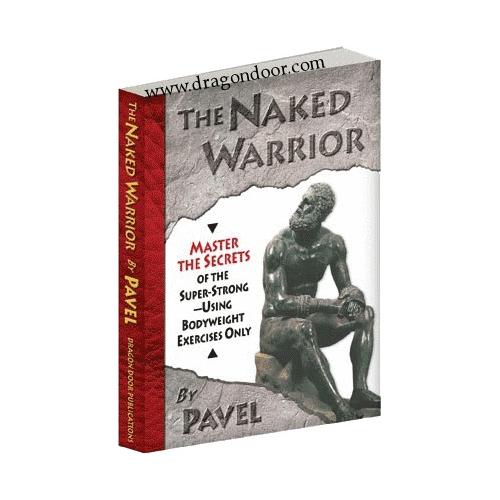 I read this book in a day! That's not because it's especially short, but it was a compulsive read! I'll start with the one annoying feature. Pavel's sales pitch is being 'the Russian', so selling to the American market, he uses words like 'Comrade', & has phases like 'the Party line', a play on the old USSR communist ideology (which was actually about as communist as ex-British Prime Minister Margret Thatcher!), but I digress. Yes, he does do a lot of that 'commi-talk' which I don't enjoy really & actually made me take him less seriously than I should have for a long time.
With that said on with the book. The idea sounds almost overly simple. Take 2 bodyweight exercises & focus on those to build strength. In this case he uses the one arm push-up & the pistol (a pistol is a one leg squat with the non-working leg stuck out in front – you kind of look like a pistol, hence the name). This doesn't sound like it would be a very long book, nor would that many find that interesting (unless you want to do those specific moves), but it's actually not about those moves as such! What it's actually about is how to display strength using various techniques of breathing, body tension & movement cues. This is why this book will work for many athletes, whether they are weightlifters, powerlifters, athletes or fighters. Yes, you are learning 2 movements in this book, but you can apply this knowledge to ANY lift & many athletic endeavours (any that require strength). It is a technique book, not an exercise book & so the rules found in here can be applied to a whole range of strength-related activities.
I read
convict conditioning
only the other day & this is another bodyweight book – in this case whereas Paul Wade was against the use of external load at all, Pavel has the view that you can & probably should mix both weights & bodyweight to get the best of both. I think I agree with this idea. Also Pavel is focussed upon building strength for the word go with low rep work, Wade starts with more high rep & works towards strength, a view that Pavel thinks is incorrect 'you can't build strength from muscular endurance exercises' sums up Pavel's view of training. I do tend to side more with Pavel than Wade on this, but that is purely my personal preference rather than absolute knowledge. I know that harder low rep stuff is more exciting to me than pumping out 50 reps of something, so accept I am biased & I do know some people who can do both high reps & high strength moves (like many push-ups & some strict one arm push-ups), but did one build the other or did they learn one, then learn the other? I'm not sure?
So, if what you are after is learning a one arm push-up (or you could even try the one arm/one leg push-up) & the pistol (with bodyweight or weighted both are covered) then this book will be for you. If you want to learn some of the tricks that allow you to display maximum strength in your sport then this will be the book for you.
The book is called the 'Naked Warrior', so it is saying you can do it anywhere, anytime & need no equipment, but given the choice I would have added the one arm chin-up to the mix. I know that ruins the whole 'no equipment' rule as you need something to chin from, but then you'd have a more rounded out program in my view. That is the 'big 3' of the bodyweight world, yes, there are harder exercises, but everyone understands that a one arm chin is hard, a one arm push-up is hard & a pistol is hard, if you can do them with good form then you have got to be considered 'strong' by any honest standard of strength. Hence I think you are missing something without the hard pull that a one arm chin-up gives you. That is my only gripe really, I'd have included that as well.
I did enjoy the book (barring the whole 'comrade' stuff I mentioned at first), as I said I read it in one day & found it a clear guide to some techniques we can all include into our training whatever our field.
That's about it, it's a good read, it's useful & you will probably learn a trick or 2 that will increase your strength if you add them in to your training.
If you're interested in the book you can pop over to
dragondoor
& get yourself a copy.